Opening first weekend in November! Open daily 8am-5pm | In case of severe ice storm please call ahead for field conditions. | Open Thanksgiving Day 8am-3pm
Cooper & Grandpa planting trees | Spring 2012
Ned Dollinger and his father John established the Christmas Tree Farm in 1956 and have been open every winter since. The original farm site is now part of the first nine holes of the Lake Carroll Golf Course. In 1971 Ned and his son John began planting trees at the Payne Road farm after the Lake Carroll development began. John & Janie Dollinger currently operate the tree farm with their son Mark, daughter-in-law Shanna, and grandsons Cooper & Maddex. Watch for Cooper and Maddex, fifth generation tree farmers, passing out Magic Reindeer food.
---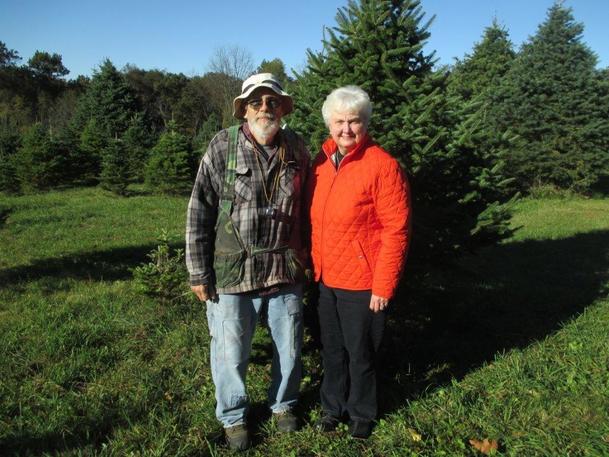 John and Janie Dollinger welcome you to enjoy complimentary hot cider, popcorn and our warming fire.
Why Fresh is Best!
More people than ever are concerned with how things affect the environment. Although this concern often gets lost in the hustle and bustle of the holidays, families can easily make one choice that will help them do their part to better the environment. That choice is to use a fresh, natural Real Christmas Tree as the centerpiece of their holiday celebration. "Unlike artificial trees, Real Christmas Trees are renewable and recyclable, " says Mel Koelling, Forestry Professor Michigan State University, East Lansing, Michigan. "However, many people still perceive cutting trees down as bad for the environment and that is not the case. Real Christmas Trees no longer come from the forest. They are grown on farms throughout North America."
Today, nearly all Christmas Trees, 98%, are grown on farms, according to the National Christmas Tree Association (NCTA)".

Once they are discarded after the holidays, there are many uses for recycled Real Christmas Trees.

However, artificial trees-most of which are manufactured overseas from petroleum and plastics - cannot be recycled and provide no benefits to the environment.

So as you celebrate the season of Peace on Earth, Good Will Toward Men; provide some peace TO the Earth and goodwill toward the environment. Make the environmentally-friendly choice in Christmas Trees - a fresh, Illinois grown Christmas Tree.

**This information courtesy of the National Christmas Tree Association.